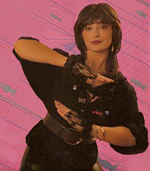 Ladies Night
This is my tribute to my favorite ladies of 80s synth boogie club pop music. These are some tracks getting some mandatory play from me right now... no dancefloor should ever be with out them.Featuring Stephany, MDMC, Glam, Gina & the Flexix. Check back soon for full list...
Tracklist:

Still working on it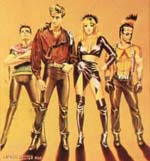 80's Street Gang Anthems
Found a VHS copy of 'Death Wish 3' in the trash recently and ended up watching the entire thing. Really amazing how so many films of this era depict the classic 80s street punk gangs and how it all went so well with evil/slow synthesizer music. Actually the soundtrack to DW3 just hinted at it, so i gathered up all the tracks i had that fit the vibe, for a bit of a tribute to all the members of the 80's Street Gangs.
Tracklist:

John Carpenter - Police State
Logic System - Automatic Collect Automatic Correct
Simple Minds - Fear of Gods
Xenon - Xenon Galaxy (Theme Version)
John Carpenter - The End (remix)
Smiles - Pendulum (Space Version)
Fashion - Mutant Dance Move
Night Moves - Transdance
Xymox - Scum (Dance Mix)
Project One - Look Out (Project Mix)
Front 242 - Take One
Visage - Fade To Grey
Ministry - Primental
Intro - Lost mix (Muzak Superior)
Vision - Lucifer's Friend (Extended)
Re-Flex - Flex It!
Wet - That's The Game (Instrumental)
Stroke - Tokyo Amazon (Inst)
Black Devil - One To Choose
the League Unlimited Orchestra - Things That Dreams Are Made Of
This a mix made ONLY from records i found last weekend at the most amazing italo-dance record find ill probably ever have! All records were $2.50 and 1/2 of them were STILL SEALED!
Tracklist:

Samson & Delilah "I Can Feel Your Love Slipping Away (Instrumental)"
B. Blase "Shake it Now (Dub)"
Jago "I'm Going To Go (Instrumental)"
IMS "Dancing Therapy (Remix)"
Bo Bellow "Knockin' (Instrumental)"
Mr. Master "A Dog In The Night (Instrumental)"
Plastic Mode "N.Y. Life"
Electra "Are you Automatic"
Peter Richards "Dancing in Neon (Dub mix)"
Secchi "Seste"