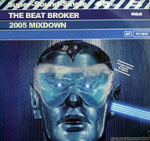 2005 Mixdown
Mixing down my personal favorite dance tracks of the year. Most were released in 2005, the rest were new to me! Featured on
de:bug podcast
July 14th.
Tracklist:

Roboterwerke "High on Tech"
Break 3000 "Disco_7"
Turntablerocker "Ttr.oy Dub"
Michoacan "Dancing in the Dark"
DJ T "Philly"
Silver City "Another Dimension" (Spirit Catcher Other View Mix)
M.A.N.D.Y. "Achaat"
Dan Berkson "Easy" (Original Edit)
7 Deadly Sins "Sloth"
Mr. Cisco "Classics"
Francisco "Moon Roller" (Extended Mix)
Jean Winner "Kick me to tasmania"
Boogie Corporation "Lay the Funk Part I"
Nick Chacona "Meso Loco"